CHEMIK (12/2013) – AN ARTICLE IN THE SITPCHEM's MAGAZINE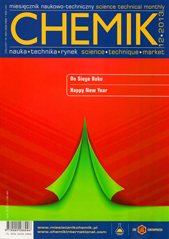 The CHEMIK science-technique-market magazine is the journal of the Polish Association of Chemical Engineers (SITPChem). It is devoted to (i) disseminate national and worldwide achievements in chemistry and chemical technology, (ii) present and discuss the functioning conditions of firms and institutions in Poland and in the world, and (iii) a presentation of ideas, purposes, and care for raising the rank of chemical engineers environment.
In the 12/2013 magazine number, the article, presenting the results of the All-Polish XXth Edition of the SITPChem Competition for the best diploma thesis of chemistry area, was appeared.