RES ACADEMICAE (1/2013) – AN ARTICLE IN THE AJD's BULLETIN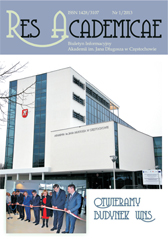 The information bulletin Res Academicae is a periodical devoted to descriptions of achievements, successes, and plans of enlarging the fortune of surroundings of the Jan Długosz University of Częstochowa (AJD). The bulletin is being released by AJD.
In the 1/2013 bulletin number, the article, describing how Bartosz Kalota deserved for the Faculty of Mathematics and Natural Sciences of AJD and presenting his short biography together with plans for the future, was appeared.