RES ACADEMICAE (1/2014) – AN ARTICLE IN THE AJD's BULLETIN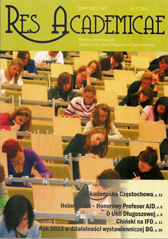 The information bulletin Res Academicae is a periodical devoted to descriptions of achievements, successes, and plans of enlarging the fortune of surroundings of the Jan Długosz University of Częstochowa (AJD). The bulletin is being released by AJD.
In the 1/2014 bulletin number, the article, including a story from the ceremony of giving the Distinction in the All-Polish XXth Edition of the SITPChem Competition for the best diploma thesis of chemistry area during the XIXth Scientific-Technical Conference Chemical Industry – Challenges and Barriers in Ustroń-Jaszowiec, was appeared.